Wednesday, March 17, 2021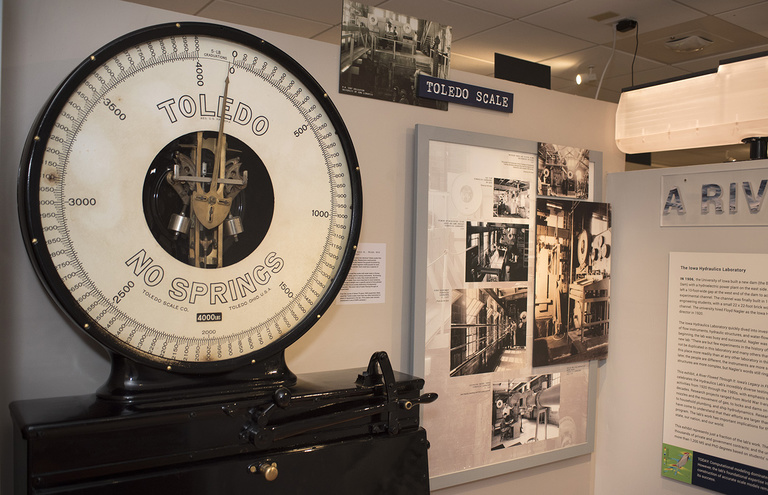 Early in 2020, IIHR and the Old Capitol Museum partnered to create a centennial exhibition that celebrates the institute's important contributions to fluids-related research. Titled "A River Flowed Through It: Iowa's Legacy in Fluid Mechanics," the exhibit brings IIHR's extraordinary history to life through artifacts, storytelling, and historical photos.
Unfortunately, about a month after the exhibit opened in February 2020, the coronavirus pandemic forced it to close again. Thankfully, the museum has agreed to keep the exhibit up through 2021 to allow more visitors to see it, either in person or online.
IIHR's Carmen Langel, a former museum curator, provided the vision and led the exhibit creation process. But many others contributed to the final product. This photo essay offers a behind-the-scenes glimpse of the process and gives us a chance to thank everyone who contributed their talents and energy to this dynamic exhibit. Plus, it gives you a peek at the exhibit itself!
And don't forget — the IIHR Centennial celebration will be rescheduled for fall 2022. Details to come. See you there!
Editor's Note: We'd also like to thank our talented photographer Aneta Goska, who spent many hours scanning and organizing archival images for this exhibit. She doesn't appear in any of the photos because she was taking them! Thanks to our amazing graphic designer, Robyn Hepker of Benson & Hepker Design, who contributed her professional design sense and artistic flair to the exhibit. Also, we are grateful to Liz Crooks and her team at Pentacrest Museums, without whose support and tireless efforts the exhibit would not have been possible.
Enjoy the photos, below, documenting the exhibit installation process!